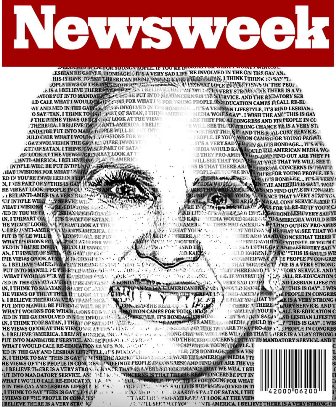 If you are looking for an outlandish member of the political party to be this Halloween, you've come to the right place. The only problem is deciding on which one. The gunslinger Governor Rick Perry from Texas, Sarah Palin, or the Tea Party favorite Michele Bachmann.
Michele Bachmann is a Republican member of the United States House of Representatives, who represents Minnesota's 6th congressional district. She is known for her radical thinking, "off-kilter" comments, and is fully aware that she has been labeled a "Kook". Becoming her for a day really isn't that difficult. Let's get started!
Clothes:
1. Find your self a dark auburn wig with layers, which comes a few inches below the shoulder, preferable with a sweeping bang.
2. Apply natural toned face makeup. Keeping the eyelashes thick with a few coats of mascara, a thick black line of eyeliner on top of the eye led. Apply a nice layer of pinkish blush, with a neutral layer of lipstick (something pink or beige).
3. She doesn't seem to stick to the typical pant and skirt suits, and likes a variety of colors. Just try and find something conservative. If it's a skirt or dress, always keep it below the knees!
4. Don't forget the accessories! If you want something more bold than the typical diamond or pearls studded earring. Try dangling pearls or large stones. Further accessorize with a necklace, something bold but not hip. If in doubt, if your grandmother would wear it, you've got the right accessory.
5. Next, the shoes. Depending on your choice of clothes will determine your shoes, just makes sure they are no more than 3 inches.
Facial Expression/Mannerisms:
1. Every so often, give a surprised wide eyed look. Kind of like psycho eyeballs, with a little spooky and a touch of crazy.
2. Facial expressions should be kind of erratic and strange, sort of like you just tasted something really bad.
3. Pop a couple of aspirin here and there.
4. Throw you hands up in the air widely when trying to make a point.
Conversation/Quotes:
1. Make sure to disagree with anything Democratic
2. Bash anything Obama does or says
3. Say off the wall things that have no logic. Here are a few examples of things she has said in the past (these quotes are all courtesy of "The HuffingtonPost.com"), but they can be found all over the internet:
a. "I find it interesting that it was back in the 1970s that the swine flu broke out then under another Democrat president Jimmy Carter. And I'm not blaming this on President Obama, I just think it's an interesting coincidence"
b. "Normalization [of gayness] through desensitization. Very effective way to do this with a bunch of second graders is take a picture of 'The Lion King' for instance, and a teacher might say, 'Do you know that the music for this movie was written by a gay man?' The message is: 'I'm better at what I do, because I'm gay.'"
c. "The President of the United States will be taking a trip over to India that is expected to cost the taxpayers $200 million a day."
Need to dress a couple or group?
Try one dressing up as Michele Bachmann and the other her Anti-Gay Husband who seems gayer than a $2 bill. You could also dress one up as Elvis since she wished him a Happy Birthday on his day of passing. Either way you could make a funny costume event out of this crazy lady.