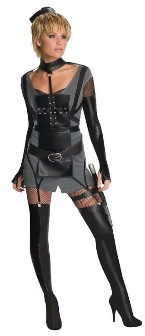 What started out as Twilight fan fiction has grown into a number one best seller that leaves it's reader's (mostly female) hot and bothered, and asking for more. Due to the success of Fifty Shades of Grey, many parties have started to pop up and the question of what to wear becomes an issue. Aside from wearing leather, ropes and chains, what can one wear to their friend's book club, where her whole family might be.
Wearing several shades of grey is a safe and easy choice but there are other choices as well. This would be great for couples to dress up the S&M thing together and have some fun with it. It could mean laughs at a party, pranks, or might even make your marriage or relationship stronger as the book reads.
Forbidden Fruit.
The whole concept of the series deals with forbidden fruit so dressing up as an apple or a plum is a fun and interesting idea. Painting the fruit grey is another good idea for the Forbidden Fruit look.

Chap Stick.
Mr. Grey tells Anna to, "Stop biting her lip", it might be fun to dress up as Chap Stick and play on that part of the book. There may not be many costumes like this at party shops, but one way to pull of this look is to find a stick of Chap Stick and dress to match the colors and then walk around with it in hand.
The Inner Goddess.
Anna mentions her, "Inner Goddess" in the book so why not dress up as one. This costume could go several ways depending on the kind of goddess one aspires to become. Wearing long flowery clothing made from shear and delicate cloth is ideal for a very pretty and feminine goddess look. Long lean and tight fitting clothing that hugs every curve in jewel tone colors might be the way to go for a strong, hunter goddess. A person could also pick a theme for their goddess, the goddess of love, of hearts and flowers, of fire, of ice. This costume can be done in so many ways; the only limitation is one's imagination.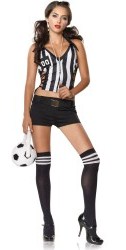 Tess of the d'Urbervilles.
The book that Christen sent Ana, in the beginning of the story would be a great costume to wear. A simple peasant dress or shirt would work for this look. The best thing about this costume is that it isn't an obvious choice, since the story of Tess of the d'Urbervilles is mentioned only a few times in Fifty Shades of Grey, but it's still relevant to the theme.
Hardware Store Employee.
This is another idea that many may not think to dress up as. When the reader first meets Anna, she is working at a local hardware store. This costume would be easy to assemble, just find a hardware worker's smock, get work boots, wear blue jeans a plane shirt and add the nametag, "Anna" and the outfit is done.
Fifty Shades of Grey Shirt.
Another quick and fun idea is to have a t-shirt with fifty different shades of gray on it. This can be done by getting a plain white shirt, and using fabric paint to print fifty shades of gray on it.