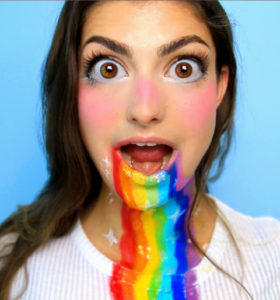 Lyst predicted the psychokinetic kid will be trending for Halloween 2016 based on the fact that last week, an ASOS Peter Pan dress was clicked on once every three minutes. Sold out now but Amazon below has some similar dresses. A whopping 80% of the folks looking at it also searched for "tube socks," another element of the Eleven costume. Bomber jackets have also seen a massive spike giving more evidence to Eleven's popularity this year. So it may be time to scoop up a pink dress and a bomber jacket as one of the biggest Halloween costumes this year is going to be Eleven from Netflix's hit show Stranger Things – even for babies.
If you're not Stranger Things fans, there are lots of other costumes that are sure to be everywhere this year. Here are a few of our biggest predictions.
Snapchat Filters
The rainbow tears, pretty butterflies and adorable dog noses are bound to be huge. Who knew that a filter would be a costume?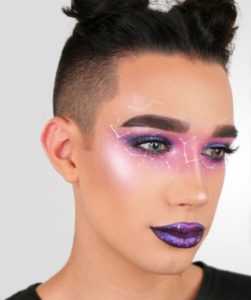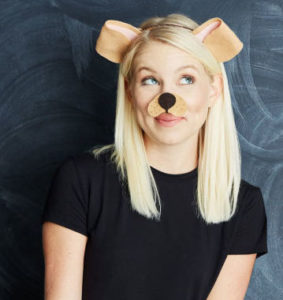 Suicide Squad was one of the most anticipated and highest grossing films of 2016, so that tells you that their will be lots of Harley Quinn costumes. Multicolored pigtails, fishnets and lots of deranged clown makeup will help you pull it off. See more Harley Quinn ideas here.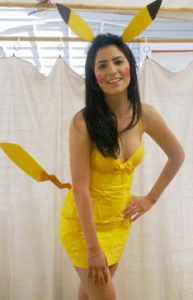 Pokemon
With the massive popularity of the Pokemon Go app came a renewed love for all things related to the original card game. Expect to see Pikachu, Squirtle and Charizard all over the place this year. Besides Pokemon you may also see a resurgence in Super Mario brothers costumes this year.
Deadpool
This action-comedy broke records to become the highest grossing rated-R movie of all time which naturally makes it a huge costume this Halloween. While it'll be easy to find store-bought versions, you could take it a step further by doing your own Deadpool makeup.



Emojis
There's no better way to combine your love of texting with the ease of a simple DIY costume than to dress up as your favorite emojis! This is great for groups because there are hundreds of emoji costume ideas.
Ghostbusters
This 2016 reboot featured four of our favorite actresses on the planet and was so much fun to watch. So many kids (and adults!) across America are guaranteed to throw on beige jumpsuits and start fighting ghosts all over the place.
More Costume ideas for various age groups:
Children
Action/Superhero
Animal (cat, dog, lion, monkey, etc.)
Batman Character
Tie: Witch & DC Superhero (excluding Batman)
Frozen Character (Anna, Elsa, Olaf)
Marvel Superhero (excluding Spiderman)
Zombie
Adults 18-34
Batman Character (Batman, Harley Quinn, The Joker, etc.)
Witch
Animal (cat, dog, bunny, etc.)
Tie: Marvel Superhero (Deadpool, Spiderman, etc.) & DC Superhero (Wonder Woman, Superman, excluding Batman)
Vampire
Video Game Character
Slasher Movie Villain (Freddy, Jason, Michael Myers, etc.)
Pirate
Star Wars Character
Zombie
Adults 35 & Up
Pirate
Political – These people can have lots of fun with this year with the election just days away from Halloween. You may see Cheeto Orange Donald Trump, "Crooked" Hillary Clinton, and possibly a Lying Ted or a Little Marco Rubio.
Vampire
Batman Character (Batman, Catwoman, etc.)
Animal (cat, dog, bunny, etc.)
Tie: DC Superhero (Superman, Wonder Woman, excluding Batman) & Star Wars Character
Tie: Ghost & Zombie
Scary Costume/Mask
Marvel Superhero (Iron Man, Hulk, Spiderman, etc.)
Pumpkin
Hot Dog
Bumble Bee
Tie: Lion & Star Wars Character
Devil
Batman Character
Witch
Superman
Action/Superhero